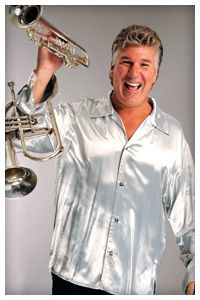 Mike Rose
Mike Rose, trumpet player, director, composer and arranger, has been an active part of the Bay Area music scene for the last 35 years. He has an extensive touring and recording history with R&B, Soul, Blues, Jazz, Rock, Pop and Latin Jazz styles.
At the age of 16 Mike was playing professionally in R&B and Top 40 bands around the San Francisco Bay Area. In 1989 Mike recorded on Todd Rundgren's   "Nearly Human " album. Performing on this Fantasy Studios " live session " was Prairie Prince, Vince Welnick, Randy Jackson, and Bobby Womack. He also performed with this group at the famed Fillmore West in San Francisco.
Most of the 90"s he spent as a road musician touring the United States with several different bands including ; Buddy Ace, Johnny Hernandez, The Dynatones, and Lydia Pense and Cold Blood. He also enjoyed international traveling and performing with the Atlantis Showroom Orchestra for Carnival Cruise Lines.
Mike has worked as a freelance trumpet player with various artists and bands such as; Bernard Purdie, Lenny Williams ( Tower Of Power ) Jimmy Mckracklin, Syl Johnson, Otis Clay, Sir Mac Rice, Little Anthony And The Imperials, The Shirells, The Coasters, The Drifters, The Mighty Sam Mclain and many more...
In 2006 Mike was awarded the Bay Area Blues Society Trumpet Player Of The Year. He's recorded on dozens of C.D.s for labels such as Blind Pig records to Warner Bros. Recording. His studio work includes commercials for McDonalds and the video game Madden 2004.
Mike has performed at festivals around the world including; The Umbria Jazz Festival in Perugia Italy, also in Italy The Poretta Soul Festival, and the Maspalomas Costa Canaria Soul Festival in The Canary Islands Spain.
Mike's teaching experience includes a long tenure with Walnut Creek Civic Arts and Education as the Jazz Ensemble Director (15 years ) and Jazz Theory instructor as well as being a private trumpet instructor. He has served as the trumpet section coach at Diablo Valley College and in 2011 directed the College Park High School Jazz Ensemble.
Presently, Mike is continuing to freelance, teach, write, arrange, compose and direct music and is now recently certified in Pro-Tools Digital Recording.